Best Tablet For The Money
If you want to know which tablet is right for you – and which delivers the best value for money, we can tell you.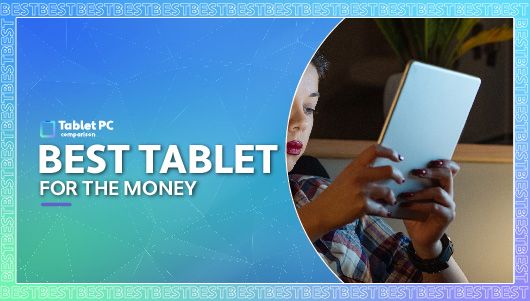 Tablet PC Comparison is reader-supported. When you buy through links on our site, we may earn an affiliate commission.
Last Updated on November 30, 2021
Getting the most value for your tablet-buck is vital in the modern era. There are tablets promising this, that, and the other speciality, and all of it sounds plausible. The question is, what's most important to you, and what do you have to spend?
Get the choice wrong and you could be saddled with a tablet that doesn't suit your needs or lifestyle. But get it right and you'll find the tablet that gives you everything you want, without charging you for features you don't use.
Let us help you. We've found the best tablet for the money in a few of the most common price ranges. The best tablet for your money is probably right here.
In a hurry? Here's our top pick.
Preview
Under $100
Under $200
Under $400
Under $500
Under $600
Title
Fire HD 8 tablet, 8" HD display, 32 GB, latest model (2020...
Fire HD 10 Tablet (10.1" 1080p full HD display, 32 GB) –...
2020 Apple iPad (10.2-inch, Wi-Fi, 128GB) - Space Gray (8th...
Samsung Galaxy Tab S6 Lite 10.4", 64GB Wi-Fi Tablet Oxford...
SAMSUNG Galaxy Tab S7 11-inch Android Tablet 128GB Wi-Fi...
Under $100
Preview
Title
Fire HD 8 tablet, 8" HD display, 32 GB, latest model (2020...
Under $200
Preview
Title
Fire HD 10 Tablet (10.1" 1080p full HD display, 32 GB) –...
Under $400
Preview
Title
2020 Apple iPad (10.2-inch, Wi-Fi, 128GB) - Space Gray (8th...
Under $500
Preview
Title
Samsung Galaxy Tab S6 Lite 10.4", 64GB Wi-Fi Tablet Oxford...
Under $600
Preview
Title
SAMSUNG Galaxy Tab S7 11-inch Android Tablet 128GB Wi-Fi...
When searching for the best tablet for your money, there are several things to keep in mind.
Know Your Mind

Have a list of essential features your ideal tablet must have, and a list of features it would be nice to have. Don't pay for functionalities that aren't at all important to you – of which there may be many in the tablet market.

Know Your Budget

If you're looking for the best tablet for the money – know how much money you're really willing to spend. If possible, give yourself 10% leeway to get a machine that gives you more of what you want, but don't be willing to go too far overboard.

Match Your Knowledge

If you know the must-haves that make a tablet perfect for you, and you know your budget, focus boldly – cut out everything outside your budget-range, and then find the tablet within that range that gives you as many of your must-haves as possible, while adding as many of your nice-to-haves, and limiting the extras for which you won't have a use.
Frequently Asked Questions
Are iPads Better than Other Tablets?

That depends who you ask – and what you're looking for. Apple is a robust platform, so its machines regularly score well – but in tablets, both Samsung and Amazon have their devoted fans. So, objectively, no. Subjectively, some people think so.

Is High Definition Worth Paying Extra for on a Tablet?

Arguably, that depends on the size of the tablet. If you're looking at 8-inch machines, you could argue that HD and 1080p features are only marginally improving your viewing experience. At 11-inches, they're good to have because image clarity means more at that size.

Is it Worth Paying More for Lite or Air Versions of Tablets?

That depends what has more value to you – portability or feature-richness. If you're taking your tablet everywhere, then you may well feel the value of the lite tablets more firmly than those who use them chiefly at home, and who want more memory, more processing speed, and more intensive use out of their tablets.
Amazon Fire HD 8 tablet, 8" HD display, 32 GB
For under $100, you want something that will give you the most capability for your buck – and that's what the Fire HD 8 is all about.

The Fire HD 8 gives you 32GB of storage space, and 2GB of RAM – plenty to run all your favorite streaming services.

If you run your life from your tablet, the Fire HD 8 can keep you connected with no trouble at all.

A recent USB-C slot upgrade means you can charge the HD 8 in around 5 hours and get 12 hours of tablet performance. Add in the hands-free convenience of Alexa, and you're getting quite the tablet for your budget-friendly outlay.

Extra fun? You can double your storage to 64GB and still stay in the under-$100 bracket. Double the Fire, same price bracket? Oh, yes please.

Performance-wise, the interface is intuitive, and Alexa makes it even easier.

Streaming video, reading e-books, social media, video calling – all the things you most use a tablet for, you can get on the Fire HD 8 without breaking a sweat. Sure, the 2GB of RAM means the HD 8 can get flustered by too many demands on its brain at once, but then how hard is closing programs you're not using? Remember to do that and the HD 8 will serve you like a Labrador – not perhaps the smartest puppy in the tablet-pound, but loyal and enthusiastic right to the end.
Amazon Fire HD 10 Tablet (10.1" 1080p full HD display, 32 GB)
If the screen quality of the Fire HD 8 is a deal-breaker for you, the Fire HD 10 might well be the best tablet for your money.

Not only do you get 2 extra inches of screen space, but the HD 10 gives you the full-on 1080P Full HD pixel-rich experience, so movies and shows will be in the best definition on a tablet this size.

Like the HD 8, the HD 10 gives you Alexa for touch-free operation, and it's relatively intuitive to control by hand too.

The HD 10 has the same 32GB of storage space as the HD 8, and it also has only 2GB of RAM.

One additional innovation on the HD 10 though is the ability to boost your storage by using a MicroSD card. And, also like the HD 8, you can double your in-built memory at the point of sale, getting 64GB while still keeping the purchase price under $200. With the right MicroSD card, you can ramp this puppy up to a full 512GB of storage, which is impressive on a 10-inch tablet.

There are extra bonuses to the HD 10 – faster charging, for one thing. The HD 10 also has an octa-core 2.0 GHz CPU, so it works pretty fast.

The audio quality is less spectacular than the 1080p screen, so you might prefer to use external speakers with the HD 10 to get a better, rounder experience out of it. But at its price-point, it still delivers a lot of tablet functionality.
New Apple iPad (10.2-inch, Wi-Fi, 128GB) - Space Gray (8th Generation)
OK, hear us out. Yes, the 10.2-inch 2020 version of the iPad is essentially an entry-level iPad. But there's value to be gained from getting this version for under 400 clams.

The two most obvious upgrades to this version are right there in the title – it gives you both wifi and cellular connection, and it gives you 128GB of memory, rather than the standard 32GB. So this is an iPad that came to party right from the get-go.

It's also important to note that Apple has been grinding up the price of its iPad Air for a while now. So on a spec-by-spec basis, you get more iPad for your dollar going for this entry-level version – especially with the upgrades in connectivity and memory.

There are also a couple of less obvious reasons to go for the 8th Gen iPad.
This iPad is driven by the A12 Bionic chipset. We know – what's that, and does it come with fries?

How far do you want to have your mind blown with tech-jargon?

Didn't think so. It's essentially a six-core CPU, running faster and smarter than the previous

A11 chipset, to give you, for instance, 50% faster graphics performance than previous generations of iPad.

Bigger, faster brain unit aside, the 8th Generation entry-level iPad also brings rapid charging to your Apple party, through a 20W adapter. It also comes with a 10-hour battery life between charges.

And if you're not impressed with the Fire HDs' performance on sound, spending the extra money to step up to the iPad could pay you dividends as the iPad's stereo speakers give you crisp, rounded sound performance.

Bottom line, the entry-level iPad was already pretty good. The A12 Bionic chipset, the rapid charging technology and the price-creep of the lighter Air series makes it a better value proposition than ever before.
Samsung Galaxy Tab S6 Lite 10.4", 64GB
The Samsung Galaxy Tab S6 Lite is about as close to an Apple Air as you can find without paying Apple Air prices.

As with the Note range of Galaxy phones, the Tab S6 Lite comes with the S Pen stylus.

There's no point trying to disguise the fact that the S Pen makes more sense on a tablet than it does even on the larger Notes, and it adds a fluidity to lots of handwriting and artistic apps – note-taking, annotating, doodling and drawing diagrams. And importantly, while Apple will charge you quite a lot extra for its magic pencil, the S Pen comes as part of the Tab S6 Lite (the most affordable Samsung tablet to include the S Pen).

The Tab S6 Lite is a durable, hardworking, S Pen-enabled tablet that – unlike many – comes with a 3.5mm headphone jack so you can use it as a wired music hub, which will appeal to plenty of older users.

The Tab S6 Lite comes with 64GB of on board memory, and will give you 12 hours of play between charges. In terms of audio reproduction, the Tab S6 Lite is the only contender on our list to bring Dolby Atmos to its offering.
Overall, the Tab S6 Lite gives you a lot of functionality, and delivers it at a high level at its price.
Samsung Galaxy Tab S7 Wi-Fi, 128 GB
The Galaxy Tab S7 is aiming directly at the same users who are swayed by the functionality of the iPad Pro. In other words, the aim is to deliver the performance of a PC or laptop, with the portability of a tablet.

That's a tough ask, but the Tab S7 makes a good fist of delivering on its intentions, with edge-to-edge screen-use, 2560 x 1600 (WQXGA) TFT resolution, and quad speakers giving Dolby Atmos sound. If you're using the Tab S7 to watch and stream movies, shows or Zoom calls, you're in some gorgeously sharp territory here.

Adding in a redesigned S Pen makes for smoother writing recognition, artistry, and control.

With on board storage starting at 128GB and expandable up to a whole 1TB, and a weight of just 1.8 pounds, this is a heavyweight machine, easily connectable to keyboards to turn it from a simple tablet into a fully-functioning laptop.

It defines the borderline of what a tablet can be, and at its price-point, it helps encourage you to splash out and go for the more hardcore S7 tablet