Five Fantastic Tickets into the Chrome OS Computerverse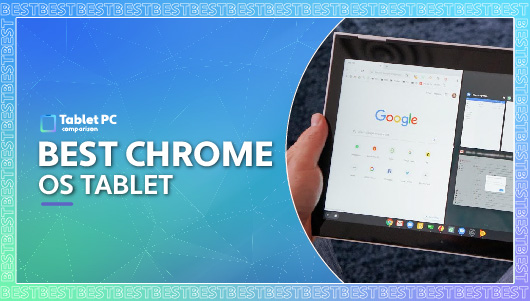 Tablet PC Comparison is reader-supported. When you buy through links on our site, we may earn an affiliate commission.
Last Updated on November 30, 2021
Tablets seemed to be a bit of an oddball upon their release. A fickle halfway point between laptops and phones, many couldn't see their potential. Fast-forward a few years, and they're a dominating computational force in business, CAD, and the home. Suddenly, if you don't own one, you're sort of out of the loop.
The problem is there are just so many. Even though you've decided a Chrome OS tablet is right for you, where do you even begin to find the one? The last thing you need is to end up with an expensive dud that's not fit for purpose.
That's why we've used all our resources to compile this list of the five best Chrome OS tablets you can buy, and we've thrown in a buyer's guide as a bonus. Gosh, we're good to you!
Preview
Enthusiast Pick
Best Value
Budget Pick
Title
10.1 Lenovo Chromebook Duet 2-in-1 Touch 1920 x 1080 Display...
Asus Chromebook Tablet CT100, 9.7" Qxga Touchscreen, OP1...
LENOVO 10E CHROMEBOOK Tablet, MTK MEDIATEK MT8183 Processor...
Enthusiast Pick
Preview
Title
10.1 Lenovo Chromebook Duet 2-in-1 Touch 1920 x 1080 Display...
Best Value
Preview
Title
Asus Chromebook Tablet CT100, 9.7" Qxga Touchscreen, OP1...
Budget Pick
Preview
Title
LENOVO 10E CHROMEBOOK Tablet, MTK MEDIATEK MT8183 Processor...
So, you've decided you're definitely going to buy a new Chrome OS tablet…hurray! These are exciting times indeed, but before you choose which one is right for you, you should consider a few things. Don't worry, it won't take long.
Display Size and Resolution

How big do you want your tablet to be? Deciding on a screen size is a great first move as it narrows the options down significantly, guiding you directly to the few that are suited to you.

When deciding on display measurements, you should consider resolution too. The resolution of a screen describes how many pixels it contains. More pixels mean crisper images, but normally also an increase in price.

The larger a display is, the higher the resolution needs to be to match the acuity of a smaller display with smaller pixels. For example, a 1920 x 1200 resolution will look nice and sharp on a 10-inch screen, but not so good on, say, a 15-inch screen.

Standard vs Hybrid

Another exciting feature to decide on is whether you'd prefer a standard tablet or hybridized device that's equal parts tablet and laptop. Traditional tablets are a single slate design with touch screens. Hybrid tablets tend to come with a fold out or detachable keyboard, giving them the added functionality of a laptop. Hybrids, sometimes referred to as convertible tablets, are preferred for tasks that involve data entry.

Processor & Clock Speeds

The processor is the backbone of any computational device. The more advanced they are, the more functions your tablet can support simultaneously. Clock speeds, measured in GHz, define how fast you can load and interact with these functions. The higher, the better.

Storage

Expansive storage can bump prices up, but it's essential if you plan on collecting a lot of images, videos, or documents on your tablet. Typically available in 16, 32, and 64GB formats, we recommend going as high as you can afford; however, if all you wish to use your tablet for is browsing the web, you can save some cash and choose a model with a smaller storage capacity.

Memory (RAM)

If storage can be considered your tablet's long term memory, RAM is the short term memory. It's a fast-access cache used for the task at hand. The larger the cache is, the faster your tablet will function. For general usage, 2MB it's fine, but to run more demanding programs or lots of lesser software at the same time, we recommend at least 4GB RAM.

Battery Life and Charge Time

One of the best things about tablets is their portability, and to be truly portable, they need to have a hefty battery life, after all, there's no point taking them with you out and about if you have to find a hub to charge them every couple of hours. We'd aim for a 10-hour + battery life. The good news is that Chrome OS tablets are renowned for the quality of their batteries.

A short charge period is another great feature. Modern life demands urgency, and it's hard enough to keep up without your tablet slowing you down.
Frequently Asked Questions
Can I Install Chrome OS on My Tablet?

We're afraid not. You can't install the full Chrome OS software on an Android tablet. They have their own operating system.

What is a Chromebook Tablet?

A Chromebook tablet is any tablet that utilizes Linux-based Chrome OS as its core operating system. They don't have to be made by Google. Some popular brands with OS tablets in their catalog include Asus, Lenovo, Acer, and HP.

Is it Better to Get a Chromebook or Tablet?

It depends entirely on your preferences and what you need it for. Chrome OS laptops are more formal devices perfect for data-entry and standard computing. Chrome OS tablets are more app oriented, young person-friendly, and portable.

Are Tablets Worth it in 2021?

Due to their portability, price, and interactive interfaces, tablets are only growing in relevance. Favored by many for both professional and domestic environments, they're definitely worth it, and Chrome OS tablets are some of the best in the business.
Any of these tablets are a fantastic way to enjoy the full effects of the Chrome OS operating system. Even though historically it has been the operating system of choice for affordable devices, it offers much more than competing systems. Whether it's articulate photo and video editing you're after, more games, or simply greater hardware and file compatibility, a Chrome OS tablet is definitely the one for you.
The Pixel Slate is one of the most underrated OS tablets in our opinion. Fully functional as a standalone tablet, it can also be augmented with separate stylus and keyboard purchases for hybrid usage.

The Core i5 processor is so energy efficient that it's not unheard of for it to last well over 12 hours on single charge. It's not a multitasking workhorse of a CPU, but it's more than most will need, capable of supporting plenty of tabs and a few different functions simultaneously.

It comes with an impressive 128GB storage capacity and 8GB RAM ensuring swift performance for day to day tasks. The 12" molecular 3000×2000 display offers up supremely vivid visuals, enabling you to watch your favorite movies and shows like you've never experienced before.

The Intel HD graphics card isn't particularly flawless, but you're unlikely to find a tablet with anything much more powerful, especially in this price range.
Recently finding popularity as an educational tool for homeschooling, the Duet is a fantastic family device. With a 10.1" 1920×1080 display, it isn't quite as breathtaking as the Pixel Slate from a visual perspective, but colors are still rich and lines remain lovely and crisp.

The octa-core Helio P60T processor is more than capable of supporting standard multitasking, so stream some music, play a game, hoard some tabs…it's all good.

It's a hybrid tablet that comes with a keyboard, but the stylus is sold separately. The keyboard feels a little cramped at first, but that's not unique to this tablet. Once you acclimatize, you'll notice how tactile the keys feel, a rare occurrence outside of aftermarket keyboards.

We managed to get the battery to last just over 10 hours on a single charge, with semi-constant usage, and it only takes three hours to fully recharge, which isn't bad at all. You can also speed up the process by using a USB-C PD charger.
Vankyo is a promising up and comer, and due to the quality of their products and their unbeatable pricing, they pose a very real threat to the big names in the tablet industry. The Matrix pad comes with an octa-core processor with snappy boot times and strong support for light to medium-weight parallelizing workflows, ensuring you can game, surf the web, and listen to music simultaneously.

It has 32GB storage – room for nearly 9000 photos – and the 3GB RAM is enough to keep processes buttery smooth. Measuring 10.1", the 1920×1200 display is also surprisingly immaculate, perfect for watching a flick or two.

Everything about this tablet impressed us, but the battery is the star of the show. Lasting a full 15 hours on a single charge, you can take this for a full weekend away, and it won't matter if you forget the charger.
Asus Chromebook Tablet CT100
Your jaw will drop as soon as you see the display on the CT100. It's not as large as our top picks, but condensing the 2048×1536 resolution down to the 9.7" scale results in delightfully vivacious visuals. A stylus is included with purchase as well, so you don't have to worry about greasy fingerprints smudging it up.

It's not just a beauty though; this thing has brawn too. Featuring a protective rubber perimeter, rubber grips, and a 3-dimensional textured finish, the CT100 isn't afraid of life in the fast lane, making it an awesome tablet for sharing with kids for some backseat entertainment.

With a hexa-core processor, it's no supercomputer, but anything more than that can be considered overkill for a standard user. The battery lasts roughly 9.5 hours – not bad – and it features 4GB RAM and 32GB storage that can be expanded via the SD slot.
Lenovo 10E Chromebook Tablet
The 10E is an affordable quad-core processor tablet with plenty of power for everyday usage. It's not capable of intensive multitasking, but it's incredibly efficient during focused workloads.

Decked out with shock-resistant Dragontrail Pro glass and reinforced skirting, it's a great sharing device for kids that can be used for both educational and entertainment purposes.

It has a 10" screen with a 1920×1200 resolution, which is plenty crisp enough for watching shows and reading the fine print on documents without straining your eyes.

Boasting 4GB RAM and 32GB storage, it can accommodate plenty of media, and the battery lasts around 8 hours, so you or your kids won't be left hanging part way through the work or school day.